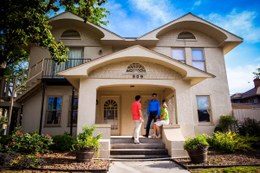 Our Houston Central location offers multiple levels of care for those seeking help with their addiction to drugs or alcohol.
This is a unique aspect of Right Step in that programming remains consistent within our system of services. This location offers Prometa, a medication and therapy treatment that helps curb addiction to alcohol and stimulants, as a supplement to Right Step treatment protocol.
Treatments Offered:
We offer a broad range of alcohol rehab and addiction treatment programs and services customized to fit each individual's needs. Our experienced and caring clinical staff works closely with each individual to determine the best program for him or her.
Intervention
Detoxification
Residential Inpatient
Day Treatment
Intensive Outpatient
Aftercare Services
Alumni Groups

Detox: Yes
Number of beds: 46
Private rooms available.
Contact Details
902 W Alabama St
Houston, TX 77018
888.519.0263 (admissions)
Web URL – www.rightstep.com