The Center for Great Expectations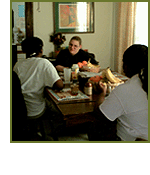 A 6 bed residential facility for homeless and pregnant women, between the ages of 13 and 40.
Certified

Teen

Free/Affordable

Women

Medicaid
A free or very low cost program for homeless pregnant women from the ages of 13 to 40, who want to carry their babies to term. Offering a holistic and spiritual program of recovery. Located in Somerville New Jersey.
Contact Details
1 Eastern Avenue
Somerville, New Jersey 08876
908-218-0210