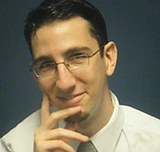 Raffi
Bilek
Counselor/Therapist, LCSW-C
Ask Him a Question
Office
The Baltimore Therapy Center
103 Old Court Rd.
Baltimore
,
MD
,
USA
21208
Contact:

443-598-2821
Treatment Offered
Therapy Orientation:

Cognitive Behavioral (CBT), Relational Therapy, Solution Focused Brief Therapy (SFBT), Family/Marital Therapy, Coaching, Family Systems Therapy, Eclectic
Age Focus:

Adults, Any age, Children, Teenagers
Specialities:

Child or Adolescent Issues, Life Coaching, Spirituality, Parenting, Domestic Abuse or Domestic Violence, Relationship Issues, Finding Your Purpose in Life
Treatment Modality:

Couples, Individuals, Families, Groups
Ethnicity:

Any Ethnicity
Sexual Orientation:

Transgender, Any Orientation
Languages Spoken:

French, Hebrew
Religious Beliefs:

Jewish
Life Is Worth Living Because...

Is this your profile? Please log in to complete it.
About My Work

"I run a treatment center for individual, couples, and family therapy. We focus primarily on relationship issues as we believe that as human beings, nothing makes more of a difference to our mental and emotional well-being than the relationships in our lives. Some examples of the relationships we help to heal and to grow include spouses, parent-children relationships, and even entire families.

We also do individual counseling around issues such as the above, as well as adoption, dating, and more."
My Story

"I was born in Montreal, Canada, and moved to the US as a teenager, where I spent my high school and college years. I went to college at Brown University, where I studied computer science and graduated with honors. After college I spent a year teaching underprivileged children in a school in Brooklyn, and then moved to Israel where I remained for six blessed years.

I have a master's degree in social work from Yeshiva University; I also have semicha from Rabbi Zalman Nechemia Goldberg of the Jerusalem beis din and Rabbi Noach Weinberg, zt''l, of Aish HaTorah. My experience includes work in psychiatric outpatient settings, family therapy institutes, domestic violence units, and community service agencies. I have worked with individuals, couples, and families, with children, teenagers, adults, and the elderly.

I am currently learning masechet Sanhedrin and the commentaries of the Sforno and Ibn Ezra on the Torah. I speak English, Hebrew, French and Spanish. I like playing Scrabble and Bananagrams and telling good (and bad) jokes. I live in Passaic, NJ with two beautiful daughters and a very special wife who supports me in all that I do."
Qualification
| | |
| --- | --- |
| Years in Practice: | 5 Years |
| Graduated from: | Wurzweiler School of Social Work |
| Year Graduated: | 2009 |
| Licensed?: | Yes |
| License issued in: | Maryland |
| License Nr.: | 19558 |
| License Expiry: | Oct 2023 |
Remote Therapy
| | |
| --- | --- |
| Phone Counseling: | Yes |
| Online Counseling: | Yes |
| Technologies: | Liveperson, Skype, VSee |
| More Info: | www.baltimoreth... |
Please use the contact form on this page to find out more about the provider's remote therapy options
Cost & Payment Modalities
| | |
| --- | --- |
| Avg Cost (session): | Sliding Scale |
| Accepts Credit Cards: | Yes |
| Online Payments accepted: | Yes |
Please verify costs and payment modalities before you arrange your first visit
Raffi Bilek's Most Recent Activity on Choose Help